Weekly Pick a Card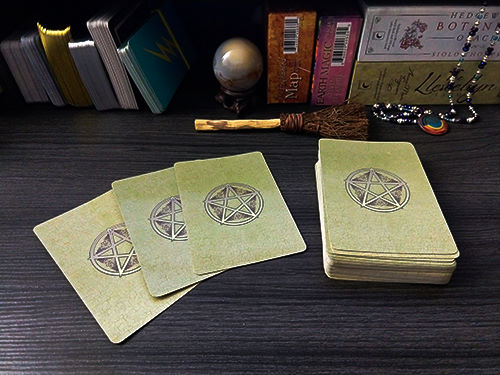 Welcome to the (almost) Weekly Pick a Card page. (Due to 'Life', I will skip a Friday on occasion.) If you landed here directly from the Aether, check out the instructions below, just so we're on the same page. If you already know what going on, then scroll down for the links to individual Pick a Card Draws.

Announcement September 3, 2020:
We are moving! Physically moving from California to Arizona. Due to the frenzy of packing and managing a hopefully smooth transit for myself, my dude, and our feline familiar, I'm going to postpone posting Card of the Days and Pick a Cards for a couple of weeks. Meanwhile, you can scroll through what is already posted below and pick whatever card calls to you. Just know it will be perfect for your current situation. 
Update February 6, 2021:
While the move went pretty well, the transition to my first job in more than a decade into an industry I've never worked in before has taken up all of my time and energy. But the great news is that's it's beginning to smooth itself out! I'll be getting back into building and creating on this site little by little. Thanks for your patience!
Weekly Pick-a-Card Instructions: First, choose a link below and click on it. Remember that the actual date of the reading doesn't matter, if you're drawn to it, then it is meant for you and your circumstances right now. After you click, you will first see an image with the backs of the cards at the top of the page as well as what deck I'm using. Close your eyes (obviously don't be driving while you do this), take a deep breath and focus on a situation in your life that you would like some insight into. If you don't have anything specific in mind, you can simply say (or think to yourself): "What do I need to see right now that I am not currently seeing?"
Then open your eyes and look at the image of the backs of the cards and choose either one, two, or all three cards - whatever calls to you. Once you've done that, scroll down that page to see the reveal and the card meanings.
All interpretations are going to include some or all of the deck's card meanings from the book that came with it. This is done because I will have no way of knowing what question you've asked and I have found that a straight meaning from the deck's book is the most accurate in those cases. I also use many different Oracle decks in addition to Tarot and in those cases it only makes sense to use the meanings that come with the deck.

Pick a Card Draws
---
---
---
---
---
---
---
---
---
---
---
---
---
---
---
This website and its entire contents are not meant to be used as a substitute for professional medical, financial, or legal advice. If you have a medical, financial, or legal problem, please seek out the appropriate professional to help you.

Links to products on Amazon and other sites may allow me to earn a small commission on purchases that you make after clicking on them. This in no way changes the price of the products that you buy, but it is a great way to throw a bit of change into my tip jar so to speak. Much gratitude to you, and Blessed Be!